Asim Jofa
Regular price
$109.00 USD
Regular price
Sale price
$109.00 USD
Unit price
per
Sale
Sold out
Asim Jofa - Organza Collection
Processing Time: 2 Weeks (After the Launch date)
Launch Date: 3rd July  2019

Product Description:
[UNSTITCHED]
Exude calm with this light turquoise ensemble. A delicate floral embroidery done with Zari and thread seasoned with beautiful 3D flowers and hints of hand touches with Kora, tiki stone and beads paired with an airy Organza woven dupatta. This design is a sure head turner.
This design includes:
1 Embroidered shirt front 45" (Embroidered area W=26" H=35")
2 meter Embroidered thin border
Two 30" Embroidered daaman borders
2 yards for back and sleeves
2.5 meter dyed Raw Silk Trouser
2.5 meter Woven dyed organza dupatta
Disclaimer:
Please note that pre-order item dispatch times are indicative and we cannot guarantee that a pre-order item will be a guaranteed dispatch on the said date .
Colour of actual product may slightly vary from that shown in the images (this can happen due to lighting conditions during the photography & customer's device screen configurations).
Share
View full details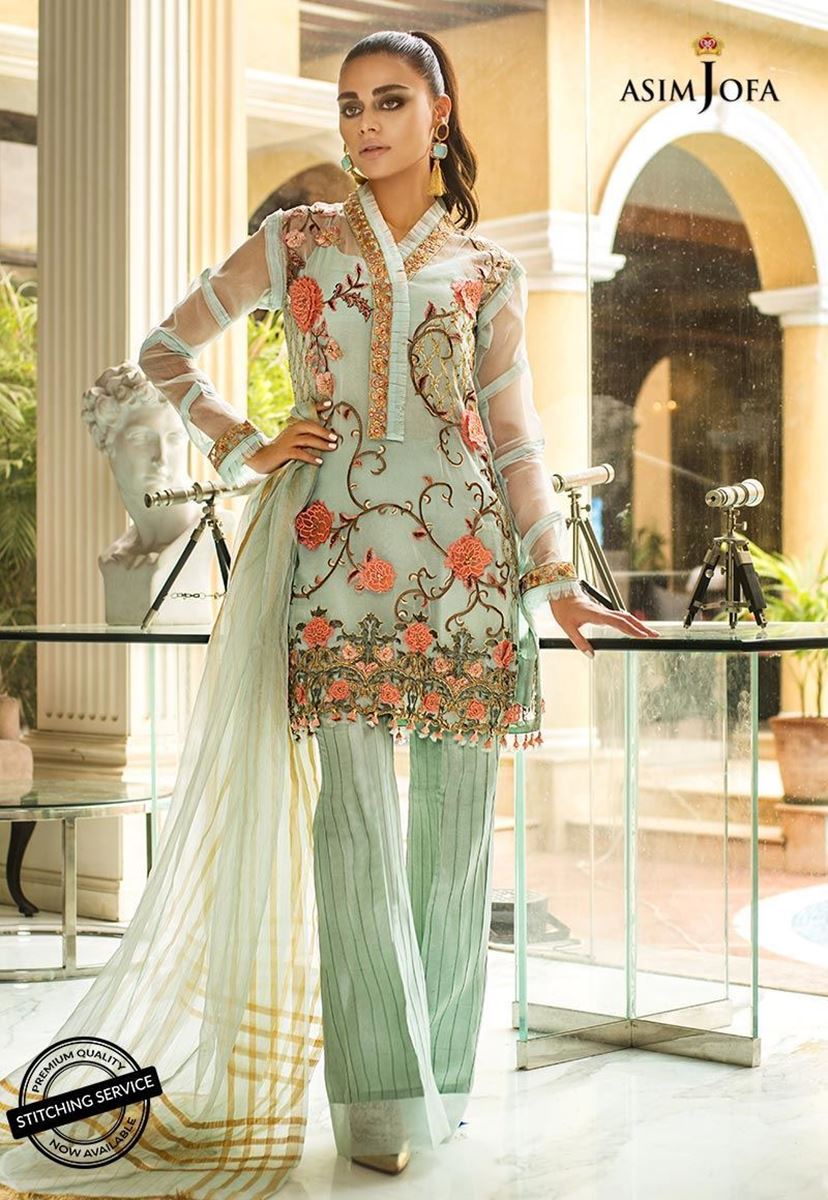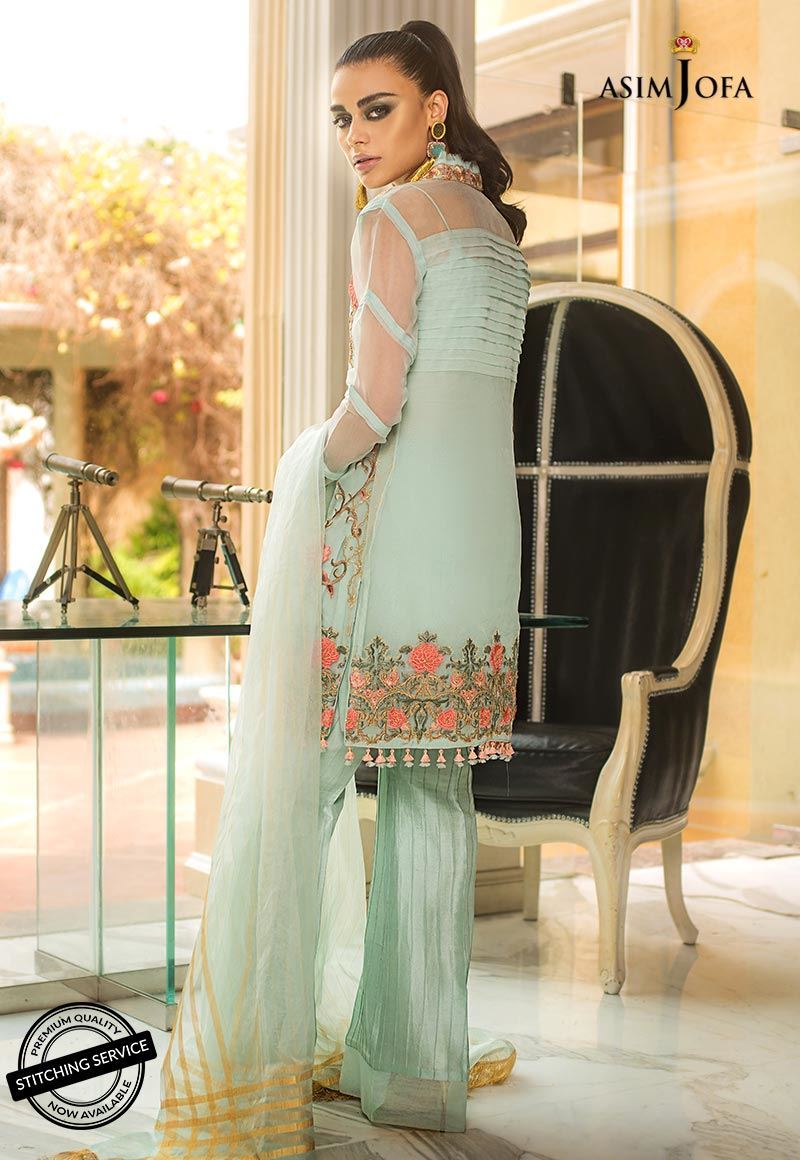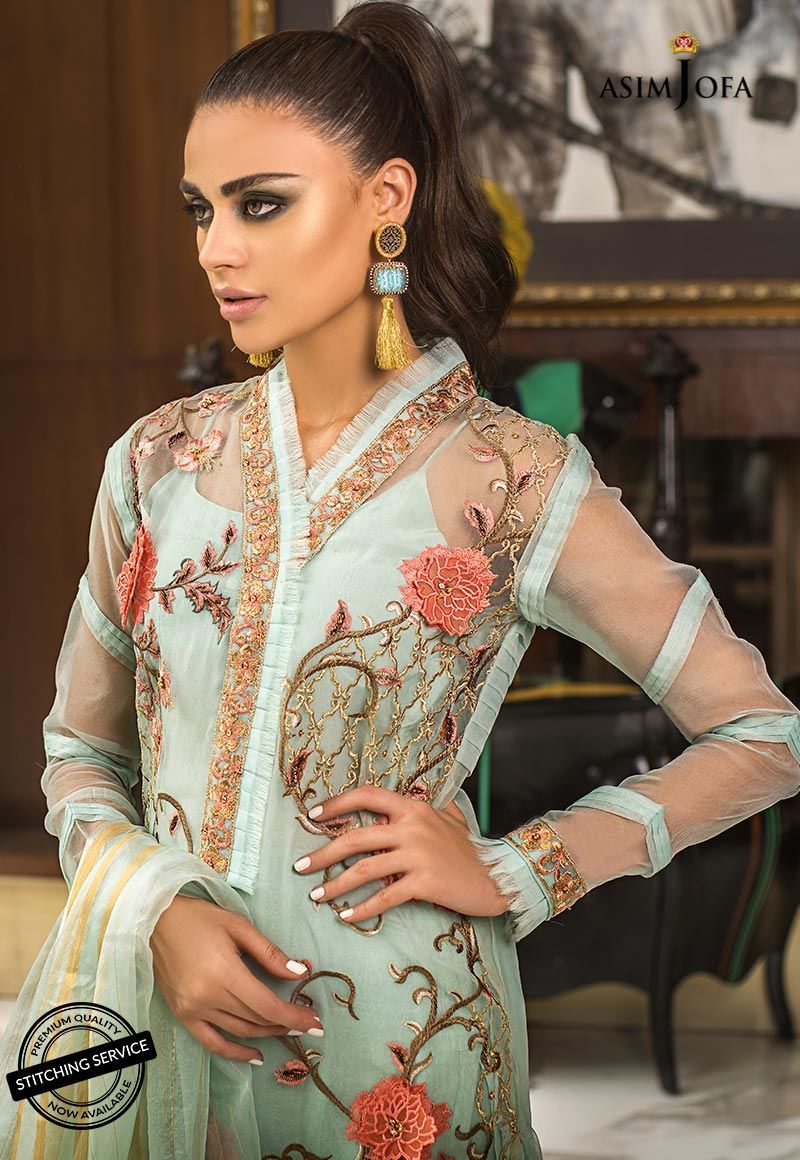 Further Information
Disclaimer

Lining, Laces, and Tassels are not included in unstitched variants. *
Embellishment items in stitched outfits are subject to market
availability

Processing time is 7 to 14
working days after the product's launch date. Processing time could be
extended during festive seasons i.e. Eid etc. The company will not
accept responsibility for any shipment delays caused by the courier
services. We observe no refund no exchange policy*.
 
The colour of the actual product may slightly vary from that shown in the
images (this can happen due to lighting conditions during the photography & customer's device screen configurations). Please note
that all products on this website are 100% original.
Return & Refund Policy

Cancellations:

To cancel an order, simply send us an email at help@aayat.co.uk within 24 HOURS of placing it. Our policy on returns and exchanges is strict because we supply custom or special orders based on clients' requests, which means the goods are not readily available in the UK and are outsourced from Pakistan only when clients place an order on our website. As a result, goods ordered for one client are not suitable for another client, and custom orders are deemed as final sales and cannot be returned or refunded.

Please be aware that custom-stitched orders cannot be returned or refunded because the suits are stitched based on the customer's measurements, and they are not suitable for another customer.

Orders cannot be cancelled once they have been processed or dispatched, and no refunds or exchanges will be provided in such cases.

 

Exchanges:

If you receive the wrong/defective product i.e., a different designer number or brand etc., you can return it upon agreement with us by contacting us via email. Please make sure the product (to be exchanged) is unused, in its original condition and packaging with tags attached. We cannot accept returns or exchanges for items that have been worn/used or have missing tags.

On agreement of exchange, this will be treated as a new order from the date of exchange, and the timeline will depend on the availability of the desired product.

 

Returns:

Please note that the address listed on our website is our business registration address only & MUST NOT be used to return the products until specifically instructed to do so. We cannot be held responsible for any lost items.

We encourage our valued customers to read & understand our policies before placing an order with us. In case of any further queries or concerns, please do not hesitate to contact us & we will be more than happy to assist you.

 

 
Shippment timings & cost

 

Shipment Times:

| | |
| --- | --- |
| Items | Despatch time |
| Ready to Wear | 7-14 Working days |
| Unstitched | 7-14 Working days |
| Custom Stitched Orders | 2-4 Weeks (Could vary due to festive seasons, i.e. Eid) |

 

Shipment charges for the United Kingdom's Customers

| | |
| --- | --- |
| Parcel Weight | Shipment Prices |
| Up to 1KG | £2.99 |
| 1-2 KG | £4.40 |
| 2-5 KG | £5.80 |
| 5-10 KG | £6.98 |
| 10-15 KG | £9.80 |

 

 

Shipment charges for Pakistan's customers

| | |
| --- | --- |
| Parcel Weight | Shipment Price |
| Up to 1KG | £2.50 |
| 1-2 KG | £3.50 |
| 2-5 KG | £4.50 |
| 5-10 KG | £5.50 |
| 10-15 KG | £6.00 |

 

 

Shipment Charges for International Customers

| | |
| --- | --- |
| Order Value | Shipment Price |
| Under 1 KG | £40.00 |
| 1-2 KG | £45.00 |
| 2-5 KG | £70.00 |
| 5-10 KG | £115.00 |
| 10-15 KG | £150 |
| +15 KG | (Please contact us for shipping quotation before placing your order) |
Stitching Measurement Form
Frequently Asked Questions

Accounts

Is an account necessary for placing an order?

Although you can order as a guest, having an Ayat b Wardrobe account will enhance your shopping experience by keeping you up to date with newsletters, storing your billing/shipping information and ensuring faster checkouts.

 

How do I make an account?

To create your very own Online Account on our website, follow these simple instructions:

Click on the 'Sign In' button on the home page
Click on the 'Create an Account' button
Click on the 'Create an Account' button at the bottom of the screen

 

What if I forget my password?

In the event of a forgotten password, simply:

Click on 'Forgot Password' on the sign in page
Enter your email address
Click on the link sent to you in your email address
Enter your new password

 

How can I update/edit my shipping or billing address details?

Go to 'My Account' and click on 'Edit' at the address tab to enter your new address.

 

Where can I view my order history?

Your order history will be available on your Dashboard on your Account page

 

Orders:

How can I place an order?

Once you have added all your desired items to your shopping cart, follow these instructions:

To order as a guest :

Click on the 'Cart' button and proceed to Checkout
Enter all your required shipping and billing information
Click on 'Confirm Order' and check your email for a Sales Order Summary

 

To order with your Ayat B Wardrobe account :

Click on the 'Cart' button and proceed to Checkout
Click on ''Continue to Payment Method' and choose your method
Click on 'Complete Order' and check your email for a Sales Order Summary

 

What if I don't get a Sales Order Summary?

A Sales Order Summary is essentially a soft receipt that should be emailed to you within an hour of placing your order. If you don't get one in your inbox, check your junk/spam folder and if it still isn't there, email to aayat.wardrobe@gmail.com to confirm your order.

 

Does adding an item to the shopping cart reserve it?

No, an item will only be reserved for you after you have confirmed your order at checkout.

 

How will I know that you have received my order?

The Sales Order Summary emailed to you will act as confirmation that your order has been logged in our record. If you do not get this email, please contact through email aayat.wardrobe@gmail.com.

 

How can I track my order?

The 'Order History' section on your Dashboard will give you details pertaining to your previous orders as well the status of your current order with regards to the stage of processing.

 

What different order statuses can I face?

Payment Pending Authorization: Your order has been logged and we are waiting for authorization from the payment gateway.
Payment Authorized, Order Processing: Authorization has been received from the payment gateway and your order is being processed.
Order Shipped: Your order has been shipped by the seller and is on its way.
Order complete: Shipment received, and transaction completed.
Order Cancelled: The order was canceled.

 

What are the benefits of ordering through an account?

Having an account will allow you to save your billing and shipping information for quick checkouts, allow you to view all your previous order history and enable you to subscribe to our weekly newsletter which will keep you up to date with all of our exciting new products and promotions.

 

What is the difference between the Order ID and Tracking ID?

Your Order ID will be used to identify your order and will be a part of the Order Sales Summary email. Another email will be sent to you once your order has been dispatched with your Tracking ID which will allow you to check the status of your delivery on the courier's website.

 

Can I add items or make changes to an existing order?

Unfortunately, it is not possible to combine orders or add items to an existing order once the order has been processed.

 

Can an order be available for store pickup?

Unfortunately, we do not offer store pickups yet.

 

 

Payments

1. What payment options do I have?
Online payment (Visa Debit/Credit, Master Debit/Credit, AMEX)
Paypal
Apple Pay (On Apple devices)
Google Pay
Amazon Pay
Klarna (Payment in installments)

2. Is it safe to use my credit/debit card to make payments?

All payment information on our website is processed on a fully encrypted and secure platform and kept confidential with only authorized personnel having access to your information.

3. What should I do if my payment fails?

In case of payment failure, make sure that the payment information you have provided is accurate. If your account has been debited after a payment failure, it is normally reimbursed to your bank account within 7 business days. You can email us on help@aayat.co.uk with your order number for any clarification.

4. Can I do a Bank transfer or cash deposite in to your business bank account?

Yes, You can transfer/deposite money into our Business account. Our bank details are as follow:

Account Name: Ayat B Wardrobe LTD

Account Number: 53035840

Sort Code: 20-76-92

IBAN: GB43BUKB207692253035840

Reference: [Please note, that you must need to put your order number in reference]

 

 

Delivery

What is the delivery time?

Order delivery can take between 7 to 10 working days for unstitched and readymade items. Order delivery also depends on the availability of the product. Custom stitched orders will take at least 2 weeks (Stitched orders during peak time such as Eid can take up to 4 weeks that's why it is good to order keeping enough time in between). Timely delivery is subject to the availability of stocks and payment authorizations. In certain cases, we might request for some form of payment verification or source to process the order.

 

What are the delivery charges for local and International orders?

We deliver to the major countries worldwide, including the UK, Europe, US, Canada, the Middle East, and Asia. When checking out without creating an account, please note the United Kingdom is selected as default. Don't forget to change it!

Ayat B Wardrobe mainly uses my Hermes courier service for deliveries within the United Kingdom.

*Following shipment rates are applicable from 15th Dec 2020.

Shipment charges for the United Kingdom's Customers

| | |
| --- | --- |
| Parcel Weight | Shipment Prices |
| Up to 1KG | £2.90 |
| 1-2 KG | £4.20 |
| 2-5 KG | £5.99 |
| 5-10 KG | £6.99 |
| 10-15 KG | £9.20 |

 

 

Shipment charges for Pakistan's customers

| | |
| --- | --- |
| Parcel Weight | Shipment Price |
| Up to 1KG | £2.50 |
| 1-2 KG | £3.50 |
| 2-5 KG | £4.50 |
| 5-10 KG | £5.50 |
| 10-15 KG | £6.00 |

 

 

Shipment Charges for International Customers

| | |
| --- | --- |
| Order Value | Shipment Price |
| Under 1 KG | £40.00 |
| 1-2 KG | £45.00 |
| 2-5 KG | £70.00 |
| 5-10 KG | £115.00 |
| 10-15 KG | £150.00 |
| +15 KG | Please contact us for shipping quotation before placing your order |

Customs or import duties are charged once the parcel reaches the destination country. Depending on the value of your order, your parcel may or may not be charged customs or import duties. If your parcel is charged, it is up to the person receiving the parcel to cover these costs. Unfortunately, Ayat b Wardrobe has no control over these charges. Customs policies and import duties vary widely from country to country so we cannot give an exact figure of the fee you will incur. You may wish to contact your local customs office for current charges before you order, so you are not surprised by charges when your parcel arrives. We work closely with our shipping partner to minimize the potential impact of custom delays on our international customers.

 

Does the price of the order include shipping charges?

For international orders, shipping charges are mentioned separately as a part of the order. Final amount charged will include shipping charges.

 

How do I check the delivery status?

On dispatch, you will be provided a Tracking ID for your order through email and text message. You can also log on to the Courier Partner's websites for local and international orders respectively, enter your tracking ID and track your order.

 

What manner of shipping do you use?

We use myHermes and Royal Mail for local orders and Skynet or DHL for international ones.

 

How many times will the courier agent attempt to deliver my order in case I am unavailable to receive it?

Delivery agents usually make multiple attempts to deliver a parcel. Kindly ensure that the given address, and postcode is accurate while placing an order. The Courier service might leave a delivery card to pick your parcel from their depot or may return the item(s) to us.

 

Can I get the shipping/billing address of order changed after it has been processed?

It is only possible to change the address of a processed order before it has been dispatched. However, once the order is with the courier service the address will not be changed. Please email help@aayat.co.uk for further assistance in this regard.

 

Can orders be gift wrapped?

Yes, they can. Email help@aayat.co.uk for more details (additional charges may apply).

 

 

Security

Why is it mandatory to give personal information?

Customer information pertaining to name, card billing details, and shipping addresses are necessary to process any electronic transactions via credit/debit cards or PayPal. These are essential inputs into the fraud detection mechanisms.

 

Is my personal information kept secure?

All payment and shipping data presented by our clients is kept secure and classified. Only approved personnel have access to this data.

 

Will I receive online security email every time I place an order with you?

Although, online security is implied for each order and the confirmation procedure is one- time for account information, if you are utilizing a different debit/credit card, your request will be subjected to online security confirmation once more.

 

What are cookies and why should I know about them?

A cookie is a small text file that is saved to, and, during subsequent visits, retrieved from your computer or mobile device. We use cookies to enhance and simplify your visit. We do not use cookies to store personal information or to disclose information to third parties but rather to store your choice of the start page and to store your details. Session cookies are used when you apply product filtration and to check if you are logged in. You can easily erase cookies from your computer or mobile device using your browser.

 

 

Cancellations/ Refunds/ Exchanges:

What is the Business policy for Refund/Exchange or order cancelation?

Cancellations:

To cancel an order, simply send us an email at help@aayat.co.uk within 24 HOURS of placing it. Our policy on returns and exchanges is strict because we supply custom or special orders based on clients' requests, which means the goods are not readily available in the UK and are outsourced from Pakistan only when clients place an order on our website. As a result, goods ordered for one client are not suitable for another client, and custom orders are deemed as final sales and cannot be returned or refunded.

Please be aware that custom-stitched orders cannot be returned or refunded because the suits are stitched based on the customer's measurements, and they are not suitable for another customer.

Orders cannot be cancelled once they have been processed or dispatched, and no refunds or exchanges will be provided in such cases.

 

Exchanges:

If you receive the wrong/defective product i.e., a different designer number or brand etc., you can return it upon agreement with us by contacting us via email. Please make sure the product (to be exchanged) is unused, in its original condition and packaging with tags attached. We cannot accept returns or exchanges for items that have been worn/used or have missing tags.

On agreement of exchange, this will be treated as a new order from the date of exchange, and the timeline will depend on the availability of the desired product.

 

Returns:

Please note that the address listed on our website is our business registration address only & must not be used to return the products until specifically instructed to do so. We cannot be held responsible for any lost items.

 

We encourage our valued customers to read & understand our policies before placing an order with us. In case of any further queries or concerns, please do not hesitate to contact us & we will be more than happy to assist you.

 

For further details please refer to our Terms & Conditions